How the "Banana Business in a Box" could herald the end of East African Food Insecurity
Most of the developed world probably regards the challenge of food insecurity in Africa as unsolvable- and with good reason. Right now, poverty and malnourishment affect more people than ever. But food insecurity could be eradicated in our children's generation.
Thanks to an alliance with the Achmea Foundation , Wanda and Maua Mazuri, we are taking a giant leap forward towards reaching that goal. The drivers of food insecurity are fairly well understood. It's a lack of access to any or all of the following:
| | | |
| --- | --- | --- |
| Function | Entity | Nationality |
| Finance | Achmea Foundation | The Netherlands |
| Quality Inputs | Maua Mazuri Tissue Culture Products Ltd | Tanzania |
| Aggregation / Sales Power | Wanda Agriculture Group Ltd | Kenya |
These three stakeholders are united in their search for business solutions for East Africa's smallholder (banana) farmers.  We have found that there is abundant enough margin for all parties to scale profitably. And this theory is being put to the test through a new initiative called the "Banana Business in a Box" (BBB).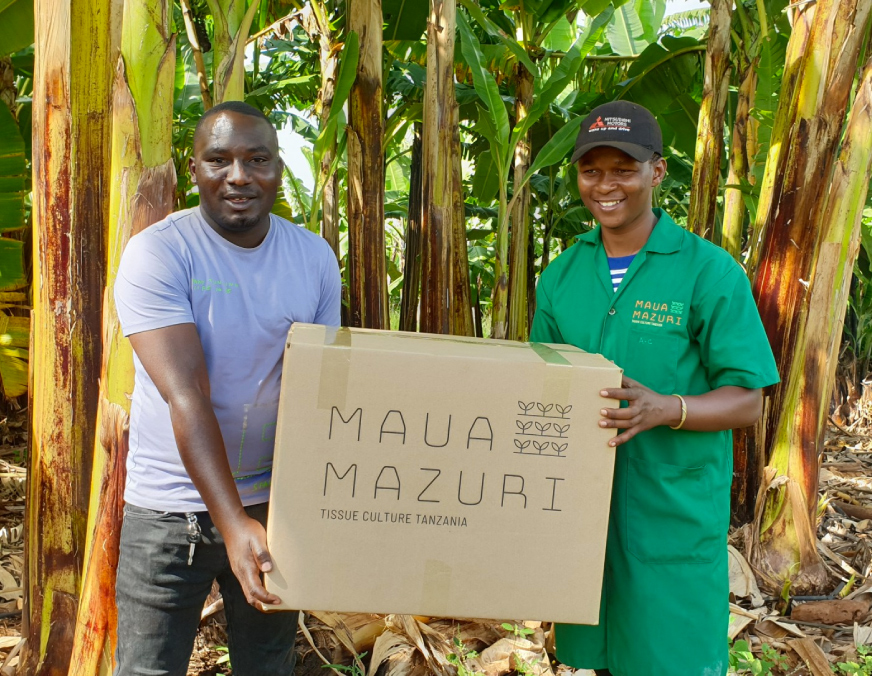 So, what does a BBB consist of?
First, it's the financing, a €500 value made available to the farmers in the form of the box itself. Secondly, it's a 1m3 box, consisting of 500 tissue culture banana seedlings. The genetic integrity of these seedlings is confirmed to be disease-free, and yielding huge 35 KG bunches.
Additionally, there's the agronomical support that's provided to the farmer to ensure they grow their seedlings into big hulking banana plants ready to harvest within a year's time. Finally, the box comes with the joint sales power which is coordinated with the massive market demand in Nairobi. In essence, this box enables anyone with half an acre of land, sufficient labor and will, to run a profitable banana farm.
Thanks to the Achmea Foundation, we will have delivered a total of 800 BBBs to farmers in Kenya, by the fall of 2024.
The average income for Kenyan smallholder farmer hovers around € 900 per year, and for farming just a half-acre of land, income is closer to €226.By committing half an acre of their land, these farmers are set to earn €1,600 per year in a base case scenario. 
Imagine your life would change if your income more than doubled? For these farmers it will be life changing. We can expect more money available for sending their kids to school, weatherproofing their homes, accessing the medicines needed for improved health and reinvesting in (tissue culture) agriculture for even more wealth. But the most beautiful part of it is that at the end of the day, it is up to the farmer to decide how to develop their own livelihoods.
All this is made available to farmers, while paying off their loan at the first harvest. If farmers struggle to pay off at first harvest, they can repay on their second or third. No administrative burden is involved, the financial access is granted by using their harvests as a security. This is truly innovative finance, led by the Achmea Foundation, and made possible by the alliance of stakeholders.
No charity is involved here – meaning that there are no donations. These are business solutions to poverty. They are sustainable, not dependent on donor NGOs, but able to self-perpetuate instead. That being said, the charitable spirit is certainly at hand amongst all of those engaged in this initiative.
First to be mentioned would be the Achmea Foundation, who are providing low-interest financing to enable the farmers to access the inputs they need. The Achmea Foundation has put its capital to work drastically under the market rate, in a move that will change the financial institutions across the region. By being more competitive on interest rates, Achmea Foundation is putting significant pressure on banks to serve their low-income agricultural market. It is a truly pioneering and good act.
Second would be the Wanda Agricultural Group (WAG). A for-profit company, which has been working, building, and innovating tirelessly in the face of adversity to establish scalable aggregation systems for smallholder farmers in Kenya, since 2011. Led by Marion Moon, a true female role model for entrepreneurs.
WAG has developed the software and agronomical systems to provide over 2,000 farmers with access to finance, markets, and agronomical support. It's arguably the hardest role in this enterprise, dealing with slim margins between farmers and markets.
Last but not least is Maua Mazuri. We have invested in the scientific expertise to make superior planting material available to this market via a tissue culture laboratory on the foot of mighty Mount Kilimanjaro that can provide the genetic integrity for scaling banana plantations across the region. Our team has developed the Banana Business in a Box after years of research and efforts to eliminate food insecurity. We are proud as heck to bring these elite institutions together, and to very publicly show this model at work.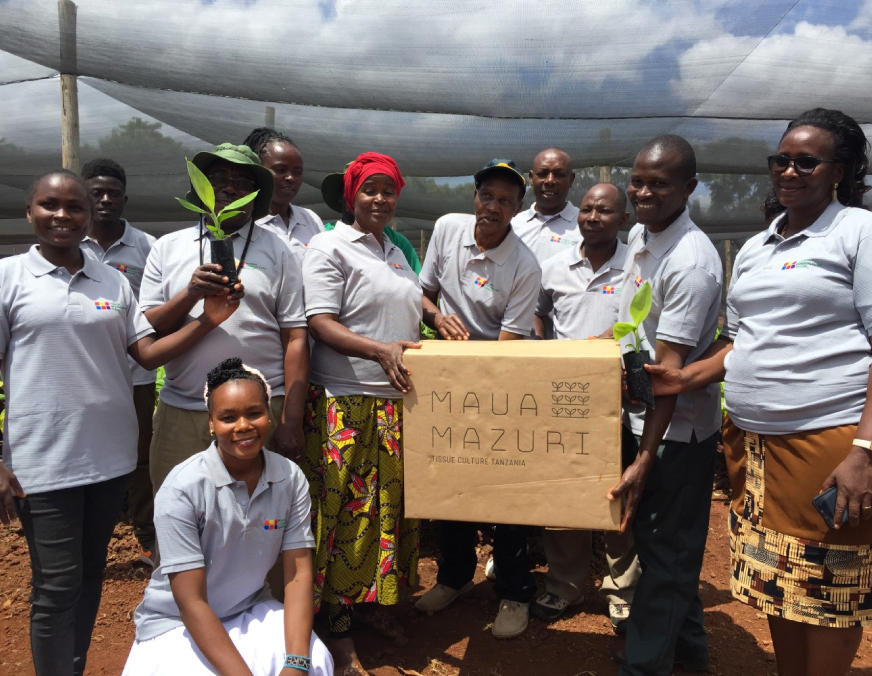 We will be bringing you updates as to how the BBB scales with bold transparency. Struggles will arrive, and be overcome, for all to watch.
 Karibu sana, Kwa Heri food insecurity!*